---
---
---
Foreshadowing
"Why didn't you stop me?"
"Have you seen you?"
"Point taken."
Welcome to Spenser Academy
---
Pen Gates is having a bad day, and it's just going to get worse. He's made some bad life choices, and now he is outside the Covenant, but he still has to obey the arcane laws for the sake of his new, expecting wife - a Vampire. He promised to behave, but all that falls by the wayside as the Covenant starts to rot from within, and the choices Pen made years ago are coming back to haunt him. All he can do now is hope that the sins of the fathers don't destroy his son. (Content Warning: Yes.)
Episode Listing
Childless

1. Visitation (Star): Meet a boy. I mean, a young man. He likes music and fire. He's locked up somewhere. (Free)

2. The Arrival (Queen): Meet a girl. I mean, a young woman. A lovely young woman, regal and imperious. She is returning home after visiting Europe, where she made some friends. (Free)

3. The Flowers Disapprove (Fool): Meet some roses. They're pretty. Stop poking me. Seriously, knock it off. Fine, they are of peerless beauty. Happy? (Free)

4. The Necklace (Queen): Mary chats with her cousin, Francis. Go tell Historia to take a deep breath and calm down.

5. The Disagreement (Queen): Mary chats with Pen, and they have a slight disagreement. Pen gets in trouble for it.

6. She Has History (Beloved): Meet Pen's wife, a woman with history. A lot of history.

7. Collegium (Ingénu): Meet uh - a very nice, completely harmless man by the name of Nathan. He is absolutely innocent and not a demon at all. Honest.

8. Trials and Tribulations (Hierophant): Francis, who we have already met, is convinced to do something that could be considered kind, but we all know it's stupid. In his defense, he was distracted.

9. The Plots (Queen): Mary plots with her other cousin, James. Someone go tell Historia to stop screaming like that.

10. Was it a dream? (Star): Pen is released from that place where he was locked up. His mother and his wife are there to greet him. Not at the same time, of course. Of course.

11. Desert (Shadow): Meet Taylor, who is a bad man doing good things. What? It happens. There are no evil angels, though. Also, meet Dominic, a very good little angel. And meet Taylor's wife. Taylor is a complicated man.

12. Antakya (Empress): Meet Thekla, a Sister of the Order. Nope, that's all the context you get.

13. To Know Your Place (Queen): Mary's plots start to thicken.

14. Love You More Than This (Hierophant): Francis meets Pen. Francis is never going to recover.

15. Choice (Ingénu): Nathan gets a phone call. He doesn't like it.

16. The Board (Queen): Mary's plots come to fruition.

17. Natural Habitat (Star): Pen plays guitar and sings, among other things. He's very good at it.

18. New Hire (Ingénu): Nathan is living his best life, and finds a secretary.

19. The Dinner (Queen): Mary and her husband have dinner with her parents, and Mary has a little chat with her husband about Pen.

20. An Ancient Song (Star): Pen meets a lovely opera singer, and they get to sing together. Shannon ruins the evening.

21. Honor (Thief): Meet Sylvia, James' friend, and Morgen, a man with a mission.

22. Never Take Friendship Personally (Fool): Izzy - have we met him properly yet? Izzy chats with his friend Blodwen about her future.

23. Cell (Shadow): Taylor starts setting up his life again.

24. Life, Death, and the Past (Star): Pen's mother is in the hospital. Coincidentally, Allie is nearing her due date. Nothing bad will come of that. Honest.
Changes

25. The Past, Death, and Lies (Star): The worst day of Pen's life, and the best.

26. To Love (Hierophant): Raise a glass with Francis, the twins, and a random Russian.

27. What Love Is (Star): Love is when she saves you from yourself.

28. The Girl Next Door (Star): Meet Chiyo, the war goddess next door.

29. Intrusion (Ingénu): Nathan starts planning for the future.

30. Bored (Star): Pen submits to another set of chains. It does not go as expected.

31. If I Can't Have You (Star): Sacrifices must be made, but they're not always hard to swallow.

32. She Doesn't Like Repeating Herself (Beloved): Allie hates her neighbors and would like to get new ones.

33. A Ring, A River, A Sin, A Song (Fool): A baptism and a hint of what is hidden.

34. Beginning (Ingénu): Nathan's plans take a sharp turn.

35. What's there to lose? (Star): Pen has a great idea to save someone else. He still has no idea what to do for himself.

36. City (Shadow): Taylor puts his foot down and cuts his mother out of his life.

37. Solace (Hierophant): Pen runs to the sanctuary of the church in search of solace.

38. Boardroom Sins (Star): Comforting and familiar family relations.

39. She Doesn't Like Dogs (Beloved): She really doesn't. But this one is acceptable, under the circumstances.

40. Be Good at What You Do (Star): There's only one thing Pen thinks he is good at.

41. Disaster (Hierophant): Francis and the twins handle a disaster, with some help.

42. Easier (Ingénu): The easier path would have been to walk away.

43. She Gives the Best Presents (Beloved): Allie has a great idea for Pen's birthday present.

44. Solace (Star): Pen's turn to offer solace. Pen does not take his effect on other people seriously.

45. Adoration (Hierophant): Francis gets the benefit of Pen not taking things seriously.

46. Wild and Fey (Cipher): Geralt has to deal with some small changes in his life.

47. Viellard (Ingénu): Nathan has to tell the truth. But no one would know if he lied anyway.

48. Hotel (Cipher): Geralt's life is in chaos, which to be fair, is what he expected.

49. Ward (Ingénu): Nathan sets up wards to protect what is his. He still could walk away if he wanted to.

50. Power and Control (Thief): Trust and faith.

51. Promises (Star): A glimpse of Pen's true sin.

52. Forgive Me (Fool): Izzy arranges happiness because that's what he likes.

53. Elysium (Angel): Dominic's episode.

54. Born of the Sea (Empress): Two husbands, two wives, two sisters, two brothers, two men, two women.

55. Guide (Angel): Taylor claims what is his. Dominic accepts what is his.

56. The Price (Hierophant): All Power has a Price. Some are sweeter than others.

57. A Gift (Star): A heart full of love, a soul full of song, and a gift for the girl next door.

58. Silver Spoon (Queen): Mary shows off her newest toy. Thekla does not appreciate it, but she does appreciate the aftermath.

59. Erratum (Prophet): Mistakes were made.
First Steps

60. She Made an Offer (Beloved): Title. He couldn't refuse.

61. Wings (Angel): Angel guardians.

62. Celebration (Queen): Mary shows off her creation.

63. Deception (Thief): Sylvia gives an old friend ample time to get out safely. He doesn't.

64. Measures (Fool): Izzy makes the hard, correct choices. He knows what really matters.

65. Floors (Angel): Dominic is constantly surprised by Taylor's domineering greed and his need to have everything his way.

66. Family Gathering (Ingénu): Nathan gets to gloat, and enjoys almost every second of it. If it weren't for that one memory….

67. Paths and Procedures (Hierophant): Rehoming a stray. No, a rescue - I stand corrected. Well, sit. I blame Alessandro!

68. Season's End (The Forgotten One): Alessandro finds his new home.

69. Small Shows (Star): Pen and the band performing a small show for the first time in ages.

70. On the Road Again (Cipher): Geralt in his office, wishing he was anywhere but where his in-laws could talk to him.

71. Show Me (Star): Pen's disorder takes center stage. One of them, anyway.

72. She Spent Way Too Much Time on This (Beloved): Allie makes overtures of… semi-peace with Elder Gates. Mostly so she can show off Roxy, something she never gets tired of.

73. The Most Wonderful Sound - 1 (Star): Allie tells a story, about two lovers and the person trying to come between them.
Upcoming

RecoveryBitter EducationYear Zero
How to use Kindle Vella
---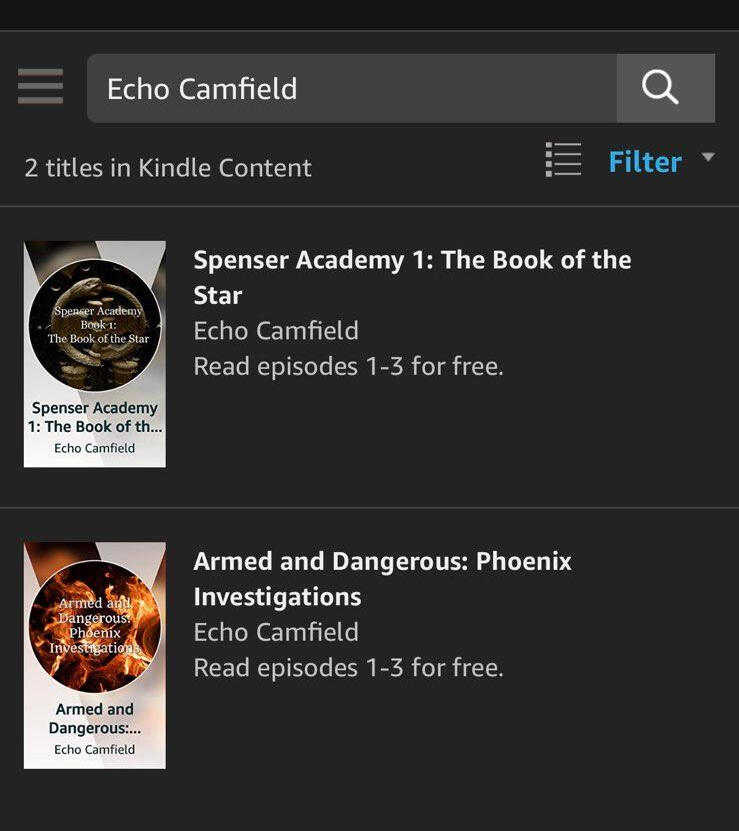 Kindle Vella is available on Amazon.com and in the iOS or Android Kindle app.

The first few episodes of every story are always free. After that, you can purchase Tokens and redeem them to unlock episodes. Tokens may only be used to unlock Kindle Vella story episodes in the Kindle for iOS app and on Amazon.com.

When you pay to unlock episodes, you will receive one 'Fave' a week that you can award to the story you're enjoying most that week. You can follow the stories you like to keep up with the latest from your favorites.

If you like an episode, give it a Thumbs Up to let the author and other readers know you liked it.